Guessing the how much wort was in the kettle pre-boil was a little difficult - but it's an important thing to know. In order to know how much wort is drained from the mash tun into the kettle, volume markings were added to the inside of the kettle.
Since it cost only $3, I was not sure that the Ebay-supplied (
bobowaytoway
) 'Etching/Engraving Pen' would work for the purpose:
However the little 'Engraving Pen' did a good job to engrave the volume markings on the inside of the keggle: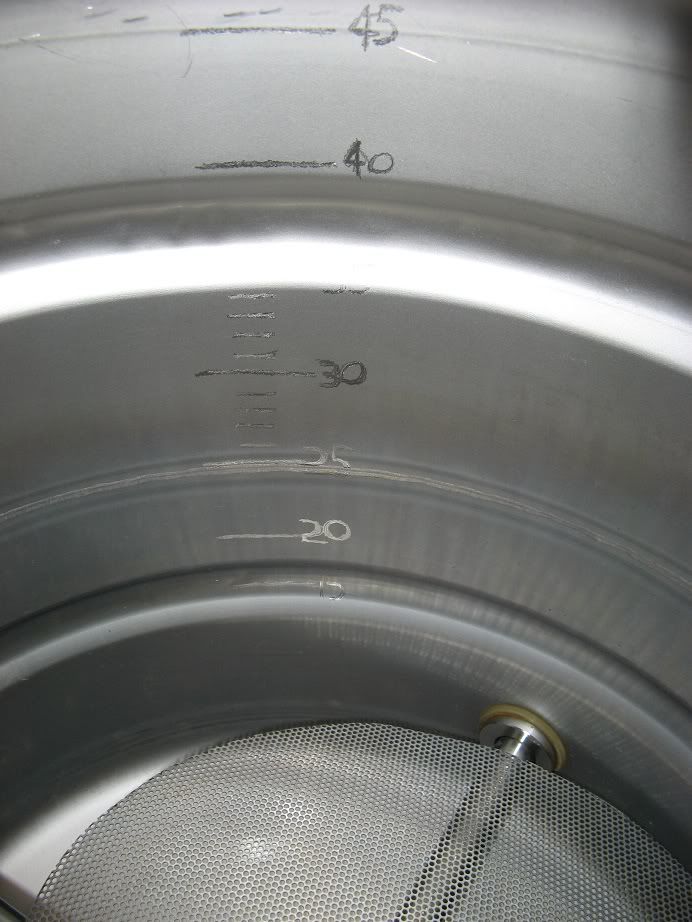 The first few times it was used the PID was not very accurate, tending to over-shoot and then holding the temperature 1 or 2 degrees above the set value. Likely this was because the unit had not been tuned to the system it was being used in, however the instructions for this process provided by SESTOS were not very helpful or clear in how to perform the auto-tune
"
First operate the Auto adjustment, press AT key 2 second, SV display blink AT, finally into PID control mode. Press the AT key 2 second to abandon Auto adjustment.
"
Luckily one of the reasons I purchased the SESTOS unit is because (not only was it cheap) but functionally it's so close to the Auber PID that the clear, detailed and easy to understand Auber PID instructions can be used.
What they explained was that:
By default auto-tune is not enabled.
To enable the auto-tune function one must enter the settings-menu and change the 'CtrL' setting (called 'At' by Auber) from 3 to 2.
Once this is done the PID will enter auto-tune mode where it will configure itself for the system.
Now that the auto-tune has been run successfully, the PID holds the mash-temperature to within about 0.2 deg C of the set value - which is considerably better than it did previously: